Verschenen op / Published on TravelTelly

Easter Island: you probably won't think of it when you're about to book a long weekend, but this Polynesian island the size of San Francisco's city center is the perfect location to explore in less than a week.
From the moment you get off the plane, Rapa Nui puts a spell on you. Craftwork next to the landing strip shows the value of ancient culture still present on the island. The people remind you of what you've seen in the Disney picture 'Pocahontas'. Their faces with sharp angles, dark eyes and soft, brown skin perfectly suit the ribbons and flowers in their long hair. All the different shades of green blind your eyes and the warmth takes your breath away. And you haven't even gotten to your hotel yet.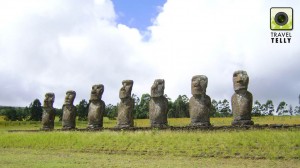 A different world
Most likely, someone from your hotel or hostel will pick you up from the airport. Reception differs from a basic piece of paper with your name on it, to a colorful sign with someone laying a string of flowers around your neck. Whichever one you'll get, you'll feel welcome from the very first moment.
Driving towards the little village, let the wind blow through your hair, jump up at the sight of your first Moai and welcome that feeling of entering another, completely different world. Hanga Roa is where most of the locals live. There is a lovely terrace, 'hanging' over the beach. Have lunch, enjoy the sweet potatoes with their solid structure and bright purple color. Look out over the ocean, the small bay, the palm trees and the gloomy, green hills that make you wonder what lies behind them. Drop off your stuff at your hotel, relax for a while in a hammock or in your room, then get on your feet and start exploring.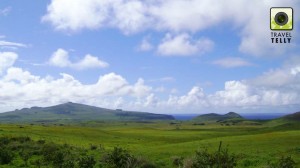 Go on foot…
With less than 6.000 inhabitants, Rapa Nui is one of the most remote inhabited islands in the world. The island is a protected UNESCO World Heritage area, with most of it contained in a National Park. Moai are the most famous attractions on Easter Island and the different legends that surround them are keeping the Moai a mystery up to this day.
A very rewarding way to explore Easter Island in my opinion is on foot. The island is small enough to walk around without getting lost, but has so many different things to offer that it is nice to take your time to let them in. On the hills you will find dogs and horses running around in the wild – though the horses are branded with a mark. The first Moai are found not far from Hanga Roa; five characteristic statues, watching over the island, their faces all unique and different, which makes them seem like actual persons, standing guard for as long as they can hold.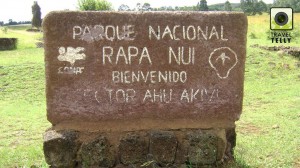 Easter Island is a volcanic island and Rano Kao is one of the three extinct volcanoes. Walk up to the crater lake in Ranu Kao, to view some of the most amazing sights. The lake is covered in dark green marshland that from a distant looks soft and might remind some people of Lord of the Rings scenes. In between the marshlands is water, dark blue, reflecting the clouds up above. It is a heavy climb up there, through bushes and up steep hills, but it is worth every step.

…or get on the road
To save time and energy, you can rent a 4WD Safari Jeep to get around. If you want to see most of the island, that is recommended. Cars are rented at hotels, but locals will charge you less. Most of the roads are unpaved, but still easily accessible. Very suitable for adventurers and off-roaders!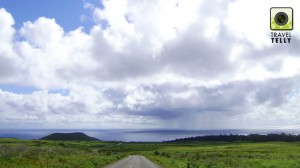 There are a few famous Moai sites. And you do want to see them, even if you normally avoid the 'touristic' spots. In Rano Raraku is the birthplace of Moai. The giant statues were being carved out of the rocks into their final state. Legend says that the Moai would walk up to their place on the island as soon as they were finished and completely carved out.
On this site you will see some unfinished Moai, forever captured in their rocks. Others are lying down; some of them are only heads, without a body. It is mind blowing, just to stand next to one of them, feeling like a tiny little human being next to something so mysterious and magical… Another amazing sight is the 'fallen down Moai'. They look sad, like they've been let down, fallen over with their faces in the grass.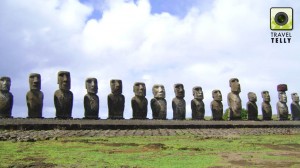 Beaches and Milky Ways
Since Rapa Nui is a tropical island, there are also plenty of beaches where you can relax. And what kind of beaches! White sand, palm trees, bright green hills, the blue ocean stretched out before you. Anakena Beach is the best of both worlds: a wonderful beach and the home of seven Moai.
When the sun starts to set, just stop at one of the many places with a view and watch the light disappear behind the enormous face of a Moai. After that, relax and look up to the sky. It will be one of the most beautiful skies you have ever seen. The dark blue, nearly black, houses millions of stars. Surrounding the stars in a white glow, stretching straight ahead as far as you can see, is the Milky Way.
You can do all of this and more. I haven't done it myself, but you can also go scuba diving or surfing, mountain biking and horse back riding. Just remember to take your time. Rapa Nui is small. But everything you'll encounter is majestic.