Ah, London: the city of Big Ben, Notting Hill, fish 'n chips and high teas. You could easily spend more than a year here and still be amazed on what you'll find. So if you only have three days, sniff on all the different elements London has to offer.
Written for / geschreven voor TravelTelly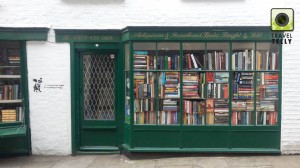 One of the biggest advantages of London is the magnificent transport system. It doesn't matter where you book a hotel or hostel, you can reach any area of the city with the underground train – the tube. So head up to Hampstead and stroll around. Hampstead is one big collection of cute tiny streets, with cobblestones, lots of green and romantic little bookshops and pubs with their names in golden letters on the front. The street names alone are worth a visit: Flask Walk, Pilgrim's Lane, Holly Bush Hill and Old Brewery Mows. Walk on to Hampstead Heath and be amazed by all the green. Dark green trees stand on bright lighter green fields, with the skyline of skyscrapers in the background. People are walking their dogs, having picnics, playing ball. Leisurely London…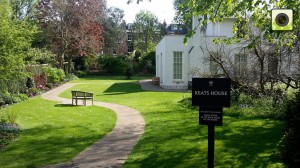 Continue to Oxford Street, the shopping heaven for those of you who like to go out and buy stuff. I prefer to just look at all the eccentricities and get blown away by the price tags on them. A very nice place to go is Liberty, the oldest warehouse in London. The building is stunning, with old-fashioned stairways, balconies overlooking the center and just for the atmosphere they've hung up a Mini and former taxi on the ceiling, both stuffed with flowers. Liberty has a separate department for chocolate where you can linger for a while, trying to decide to pick the dark chocolate with chili's or the hemp chocolate from Amsterdam.
Getting hungry? Close by, on Argyll Street is the restaurant Spuntino. You'll need to look up the address before you leave, because there is no sign outside. Nevertheless, there is a line before 6.30pm so get there in time. You can choose all kinds of small bites, like tapas, but with English food. Like 'egg & soldiers', which is a poached egg with bread or fries to dip in the egg yolk. Or the 'prawn po' boy': fried prawn on a small bun. After dessert, there is one more thing on your list, which must be done while you're in London. Go see a musical at the London Palladium. There are plenty of options and both the beauty of the theatre and experience of a musical performance will make it worthwhile.
Hipster London
Start your day strolling around the Brixton Market. Brixton is one of those neighborhoods that is slowly getting popular and taken over by posh Londeners who come from all over town to buy veggies and fish at the market. However, get there early before the crowd and you'll know why everyone loves it. Stepping into the market, which is both outside and inside, feels like stepping into the Caribbean or Africa. The music, the smell, the fresh fish, large pieces of meat and stands with things you usually keep in a drawer in the kitchen table, Brixton Market is like a small world trip.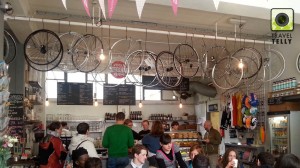 When satisfied, take the tube to Old Street. Another neighborhood in transit: from poor to very hip. Have coffee and lunch at Look Mum No Hands, a café / bar / workshop for bikes. They have Guinness cake, homemade salads and pies and delicious coffee. This is a good place to get recharged for your walk to the St. Paul cathedral. Wonder and observe and stroll on to the Millennium Bridge, which you might appreciate but seems to me like an ugly thing next to London Bridge. The Millennium Bridge will lead you to Tate Modern though, a very hip museum with renewing collections on display. Most are for free, others require payment, but you can always visit the Espresso Bar on the third floor for a perfect view over the Thames.
Later you can cross that Thames on the ferry to Tate Britain. Like the Amsterdam Rijksmuseum Tate Britain has recently rearranged their art into chronological order. This has made it very comfortable to make your way through a collection of Britain's finest art. Finish your hipster day at Burger & Lobster, a restaurant that serves, you'll never guess, burgers and lobsters. All meals cost 20 pounds so to get most out of your money I'd recommend taking the lobster…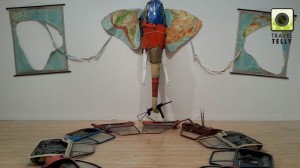 Wonderful London
I stayed in Clapham with people I know. Unfortunately the hotels aren't that good in the area, but there is a nice place where you can get coffee and breakfast. Bread Etcetera is close by Clapham Common station and has toasters on the table for the ultimate breakfast feeling. Don't miss it. Covent Garden is another thing you shouldn't miss. The market with huge paella pans, the street artists and the little galleries and shops make it typical London. Try to take a look inside the Opera, which is magnificent. Tiny little streets surround Covent Garden, walk them to Comptoir Libanais in Soho where you can have a delicious lunch.
For the ultimate sight of London visit the Heron Tower. Don't go through the main entrance, but have drinks at Duck & Waffle. It is located on the 40th floor and has windows to serve you with the most brilliant view of the city, from all perspectives. When you have taken in the mind-blowing sight, make your way towards Spitalfields. Spitalfields Market is across the street from Liverpool Station so it's perfect to spend your last day before heading to the airport or train station. In the market you will find a lot of antiques and second hand clothing. It is perfect to wander around and look at the wonderful things that the people of London have to offer you.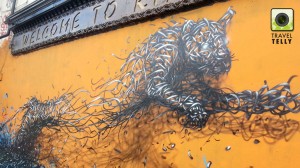 While you have time, walk around in the area and don't miss Brick Lane. Brick lane is home to a lot of famous street artists, like Banksy. You can easily shoot some photos of amazing street art displays. If you're lucky, like I was, you might even see an artist at work. For your last activity in London, go and have some sushi at Liverpool Street Station. Not very English, but tasty nonetheless.
Concluding…
This was three days in London, which clearly isn't enough. We haven't even been to Borough Market, Notting Hill, The Big Ben, traditional English pubs, or to one of the hotels to have a truly English high tea yet. So, if you have the chance, go visit London again. Or stay for more than three days… Enjoy!