Go fly a kite! And I mean that in the nicest possible way. Many have heard of Amsterdam, city of sin, cheese and tulips. But The Netherlands has more to offer. The Waddeneilanden (Wadden Islands) for examply. Five tiny islands with a culture of their own.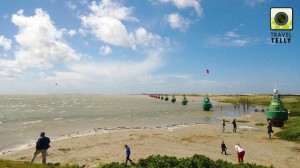 In the North of The Netherlands are five small islands: Texel, Vlieland, Terschelling, Ameland and Schiermonnikoog. Difficult to pronounce, but all the more easy to explore. Boats to the islands leave from three different harbors: Den Helder, Lauwersoog and Harlingen. Please note that though The Netherlands might be a small country, those harbors are a few hour drive apart from each other. If you only have three days, pick one of the islands and don't try to rush through all of them. The smallest one is Schiermonnikoog and the largest is Terschelling. Just for now, I will take you to that last one.
Rent a bike; go explore
Taking the ferry to Terschelling takes a little over an hour and a half if you have the slow boat. It is possible to take a quicker one, but it doesn't allow you to go on deck and feel the sea breeze running through your hair. So I'd say take your time, breathe in the salty air and look for the watchtower, as you get closer to the island. Although on Terschelling vehicles are allowed to enter, it is much more fun to travel the island by bicycle. You can rent a bike on various locations near the harbor. Find out which one is the least crowded, pick your bike and be on your way.
Tiny little paths covered in crashed seashells lead you across the island. There are cycling routes you can take and you can also choose to just pick left or right and make your way through the sand dunes. Cycle past campsites, into the forest and finish by the sea. Wait, I'm going to fast. First, stop in one of the towns for a coffee or a local delicacy: herring and other fishy deliciousness. There are several small towns on Terschelling, but Midsland is my favorite. It is very cozy with old buildings, cobbled streets and plenty of bars and terraces you can visit. Finish your day here and close it off with a few beers. One thing you must try when you're on a Wadden Island is Jutters-Bitter, a local drink which kind of resembles the flavor of cough drop syrup but isn't the same at all. Like I said, you must try it.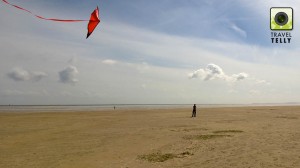 Let's go the to beach!
Rise and shine, it is beach time! Terschelling has several beautiful beaches where you can go for a walk, barefooted down the surf and if you're lucky with the weather, lay down on a beach towel and get tanned. A small piece of advice: the sun is much stronger on the islands than the main land and due to the constant presence of wind it doesn't feel that way. Wear sunscreen! You will get burned. Aside from the serious note, enjoy the yellow golden sand, slide down the sand dunes and have a cocktail or a coffee at one of the beach bars. Also orderbitterballen, a local snack, which suits any type of weather.
If you're lucky and the wind is up, you might get to watch some kite surfers. Kite surfers are always a pleasure to the eye if you ask me. They make Terschelling feel like California, but smaller. When you're up for active stuff, rent a kite and go fly one. Because of the wind that is pretty much always blowing strong, you're guaranteed to have a good time. Start with a small one or take up the challenge and rent a big one with a small armor that comes with it. The kite is so strong it might take you flying for a few feet. Awesome pictures guaranteed. Cool down in one of the cafes or warm up in your hotel, depending on how hard you've worked. Terschelling has both campsites and hotels, so pick whatever suits you best. Facilities at all campsites are great and most of them have a restaurant/bar of their own.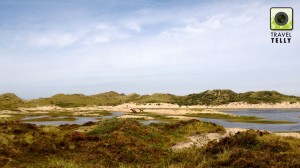 Walk in the forest
As your last day on the island begins, spend a few hours in the forest. The best way to do this is just to hop on your bike again, cycle some more and hop off whenever you're surrounded by trees. The lovely smell of pine trees cannot be taken in on a photograph, but the green and brown colors that surround you are beautiful enough. Try to stay on the paths. It is wonderful to explore and crawl deeper and deeper into the woods, but it is possible to get lost. The island is small, yes, but trying to find your way back when it's dark and cold is not what anyone would want.
If you're up for it, and I highly recommend it, you can go horseback riding in both the forest and on the beach. Bring comfortable clothing, sunglasses and of course your camera. Looking at Terschelling from a horseback is a totally new experience. Once you're back in the harbor to drop off your stuff at the luggage carts and you don't feel ready to leave just yet, you have experienced what a visit to a Wadden Island is like. Don't rush, have some fish to say goodbye and be sure to take the slow boat back…