Las Vegas is like Disney World for grown-ups. In three days you can explore the city ánd you might even save time for site seeing on the Hoover Dam. That is of course, if you don't get stuck in one of the casinos or shopping malls…
Also published on TravelTelly.com / Ook gepubliceerd op TravelTelly.com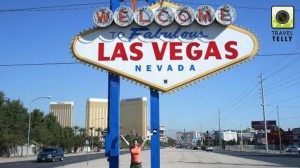 Thinking of Las Vegas everyone sees The Strip. The fabulous boulevard covered in over-the-top buildings (a small Eiffel Tower, the Statue of Liberty half the size of the original and miniature Venice – with gondolas), fairy tale casinos and hotels. It seems the weather is always hot and sunny, the people are friendly and you could drown in souvenirs. But there is more to Vegas than the glamorous sites you see on TV.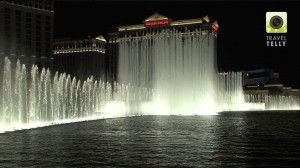 Frank Sinatra at the Bellagio
Of course you want to sniff at all the glamour that catches your eye. Stroll around in the casinos where flowers in the shape of snails, ladybugs and storks decorate the entrance hall. Put on a cocktail dress or James Bond suit and draw up to a Black Jack-table. Or get out on the streets, ignore the condoms and flyers with naked women on them lying around and join the regular people in sweat pants and varsity hoodies on the slots.
Join a pirate show and get blown away by acrobats with eye-patches and waving red bandanas. Enjoy the sun while you sip on a coffee, looking at the smaller version of the New York skyline. Admire experimental art or go shopping at one of the malls to take a picture with people dressed like famous actors. When twilight sets in, walk towards the Bellagio, where Frank Sinatra sings his songs to accompany a water fountain show. Pure magic.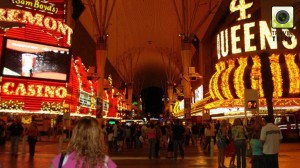 Shrimp cocktails
When you're done looking at flashy lights, swinging pirates or you've heard enough sounds of coins getting lost in the slots, get to the old city on Main Street. This is where it all started. Old, half broken down casinos show a sober sight of what used to be the first 'Strip' of Las Vegas. Casinos that look like saloons are decorated with neon lights. It is darker here, not as many colors and walking the nearly empty street feels like walking through history.
Enter the main arcade hall, where glittering lights and names of casinos will make you blink. Interiors are worn out and old fashioned; yet it feels like this is the atmosphere that fits a gambling city. Enjoy a $1, – shrimp cocktail and reminisce about the old days. You are at the right spot to do so.
Hoover Dam
Driving on to your next destination or feel the need to get out of the city? A good moment to visit the Hoover Dam. Hoover Dam is known for the deaths of workers, which occurred during the building process. The entire dam is hand made and has wonderful architectural design. Lake Mead, behind Hoover Dam, provides power for over 8 million people in Arizona, Nevada and Arizona. Given the history and the massive size of the Hoover Dam (a highway runs over it) it is worth a visit.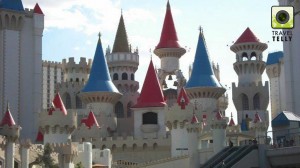 Overall, like Disney World, a trip to Las Vegas will leave you smiling, admiring, frowning and with a very happy feeling.TravelTelly.com